Best Platform for Live Streaming Sports
This blog will compare popular live streaming platforms such as Facebook, Twitch, Periscope and TeamLinkt that can be used for broadcasting a sports games during your team's season. Live video streaming has become common across sports with reduced spectator numbers and necessary isolation. Ensure your team is using the best platform for a clearly streamed game for all your team's biggest supporters.  Continue reading for a comparison of and the pros and cons associated with each platform. 
Facebook
Facebook Live allows people to share live-streams with their followers. Broadcasted on a Facebook wall people can tune in to your event and read more about it with the event info feature. 
Pros

Cons

User Friendly

Free of Cost

Desktop and mobile options

Risk of negative comments with open chat box

Security and privacy concerns 
Twitch
Twitch is one of the largest streaming platforms in the world, most specifically used for gaming. Watch streams and chat with others around the world. 
Pros

Cons

Animated Stickers

Free of Cost

File Sharing

Phone Call Option Available 

Mainly a gaming platform 

Security can be an issue with stream
Periscope
Periscope is a live video streaming app that was acquired by Twitter and is said to be one of the fastest growing social networks. Followers of your content can be notified of a stream and interact throughout the event with hearts and comments. 
Pros

Cons

Free of Cost 

Desktop and mobile options

Videos can last as long as they want

Invasion of Privacy (Every stream is public)

Heavily branded
Why use TeamLinkt?
TeamLinkt is a free team management app that offers team chat options, chat reactions, group chats, photo sharing, live-streaming, polling and much more all for no cost. Once a roster is entered into the app each team member can be contacted with ease. Cannot make it to a game? Cannot attend a game due to spectator protocols? Wanting to tune into your child's game? TeamLinkt's live-streaming tools can help broadcast the game instantly. With a mobile and desktop option these communications tools can be accessed from anywhere and at any time. TeamLinkt has incorporated a scoreboard overlay for the live-streaming feature to enhance the experience even further. This is perfect for hockey, volleyball, basketball, football and any other sport where the score is important to viewers. 
Once a game starts, you simply click to live stream, then once the stream starts your whole team is notified and can click to tune in! 
What are you waiting for? Join TeamLinkt today! 
As a sports management tool passionate about an array of sports and with many employees who are active members of the sports community here at TeamLinkt we wanted to take the time to acknowledge International Women's Day. Most specifically the evolution of Women's Hockey in Canada. 
Women's Hockey is now visible in the Olympics and as part of campus sports which has allowed women to carry on their dreams, but not as far as their male counterparts. Despite this glass ceiling, many female hockey players feel an added pressure to perform on the ice and push their limits in order to pave the way for the younger generation of women that want to play the game. 
Hockey Canada published a video on behalf of International Women's Day and we felt that it was impactful to share with our TeamLinkt users. It is the changemakers and hard workers that have adapted the narrative of women's hockey in Canada over time.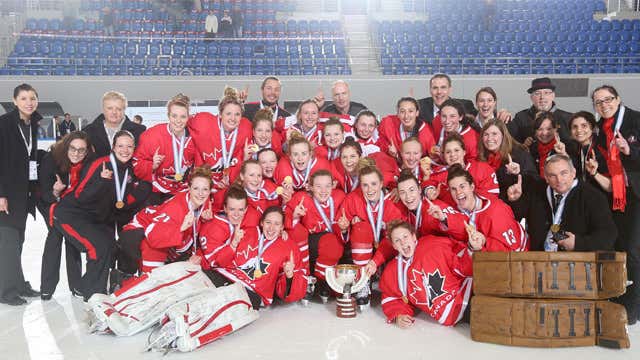 At TeamLinkt we are passionate about inclusion and giving the gift of sport to everyone. With a whole host of sports-related features, whether you are a small female league or a professional team we are here to help your season run smoothly. 
#internationalwomensday2021
About Us
TeamLinkt provides a Free Sports Team Management App and League Management Platform.   Used by thousands of teams and leagues, TeamLinkt is the simplest way to organize and connect your team, league, association, club and school.